REVIEWER'S COMMENTS

Introductory Pages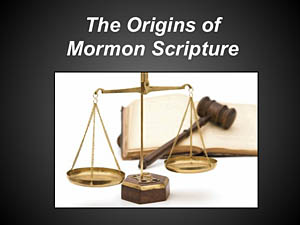 The initial (March-April, 2012) on-line presentation at MormonLeaks.com begins without any formal Preface, Foreword, or Introduction; thus, the two paragraphs reproduced above were accessed via drop-down menus at the site's home page.

Although no specific contributors are mentioned in these introductory paragraphs, subsequent entries in the presentation identify the narrative's primary author-editor as Craig Criddle ph.D., whose prior web offerings on this same topic are cited and/or reprised throughout the slide-show's eight episodes.

The visitor to MormonLeaks.com is immediately offered a self-propelled, revolving selection of eight episodes comprising the "Origins of Mormon Scripture," and this type of user interface perhaps explains why traditional introductions and authorship attributions have been disposed of. The site's animated, illustrated narrative appears to have been designed as a vehicle for communicating a specific interpretation of Mormon beginnings, rather than as a scholarly historical thesis. The resultant blurring of journalistic boundaries may strike some site visitors as smacking of contra-Mormon "infoganda" and mythological pretensions. Indeed, it would not be an overstatement to conclude that the proper genre for "Origins of Mormon Scripture" would be found among contemporary large screen religious visitors' center productions. If the traditional, institutional narrative for Latter Day Saint beginnings is viewed as mythology, then Dr. Criddle's presentation could be termed a counter-myth. This does not necessarily mean that the information thus conveyed is fanciful or false -- but the site visitor can be warned ahead of time that "Origins of Mormon Scripture" is intended to provide much the same impact upon its audience as does a high production values proselytizing film screened for historical site visitors in Nauvoo or Salt Lake City.




Dr. Craig Criddle



This erstwhile eight-part presentation at MormonLeaks is evidently intended as merely the first in a series of future "leaked" web-offerings. The very name of the site calls to mind images of fugitive would-be participants (the site uses the word "contributors") struggling to obtain and disclose, via the internet, all their pet evidences for a true Mormon history. Needless to say, such a venue could soon be fraught with multiple perils -- including deception, illegality, and reputation-damaging inquisitions. At the very least, it stands to reason that LDS defenders would strive to limit the scope and consequences of any controversial disclosures made via these methods. The only possible saving grace attachable to such "leaked" revelations would have to be embodied in rigorous, objective, factual documentation -- the sort of evidence that can be held up to the scrutiny of peer review conducted by recognized experts in the field (whatever that particular field might be). It is not likely that many established historians, academics, and sundry scholars of things Mormon will welcome such uninvited, revisionist intrusions upon their professional turf. The MormonLeakers no doubt generally expect to address a less specialized, more amenable audience.

However -- the MormonLeaks editors appear to have anticipated skeptical reader reaction (as well as uncongenial institutional response) in their publishing the following informal mission statement: "Our aim is to create an account that integrates as much evidence as possible into a narrative with explanatory and predictive power. While we are not aware of errors of fact, we recognize that errors are possible, and we welcome corrections. We also anticipate that new evidence will come to light. Corrections and additional information may require fine-tuning of the narrative or even significant changes." Hopefully these editors will carefully preserve the original content of each and every paragraph published by MormonLeaks, so that subsequent additions or corrections can be easily identified.

As for myself, I have the luxury of picking and choosing available to me, as I investigate and analyze the contents of these new communications. I do not promise to provide a full investigation of "Origins of Mormon Scripture," but I will attempt to be judicious and even-handed in my reporting. Given sufficient time and resources, I may even be able to offer meaningful reviews of all eight episodes' "slides," including reproductions of their appended footnotes -- supplemented with my own thoughts on the entire project.

Dale R. Broadhurst
April 27, 2012